When it comes time to select a colour for your drapes there are so many things to consider that you may be tempted to throw in the towel and just keep the ones you have. But while it's true that there are a lot of things that go into selecting the right colour(s) for your drapery the selection process really boils down to understanding some basic colour principles and remembering that your drapes aren't going to exist in a vacuum. They'll influence and be influenced by the other colours present in your decor, including the colour of your walls, upholstery, carpeting and more. In this guide we're going to take a look at the process of choosing the right drapery colour. The great thing about this type of information is that once you understand it you never have to re-learn it.
Table of Contents
Choosing the Right Colour for your Custom Drapery: A Short Primer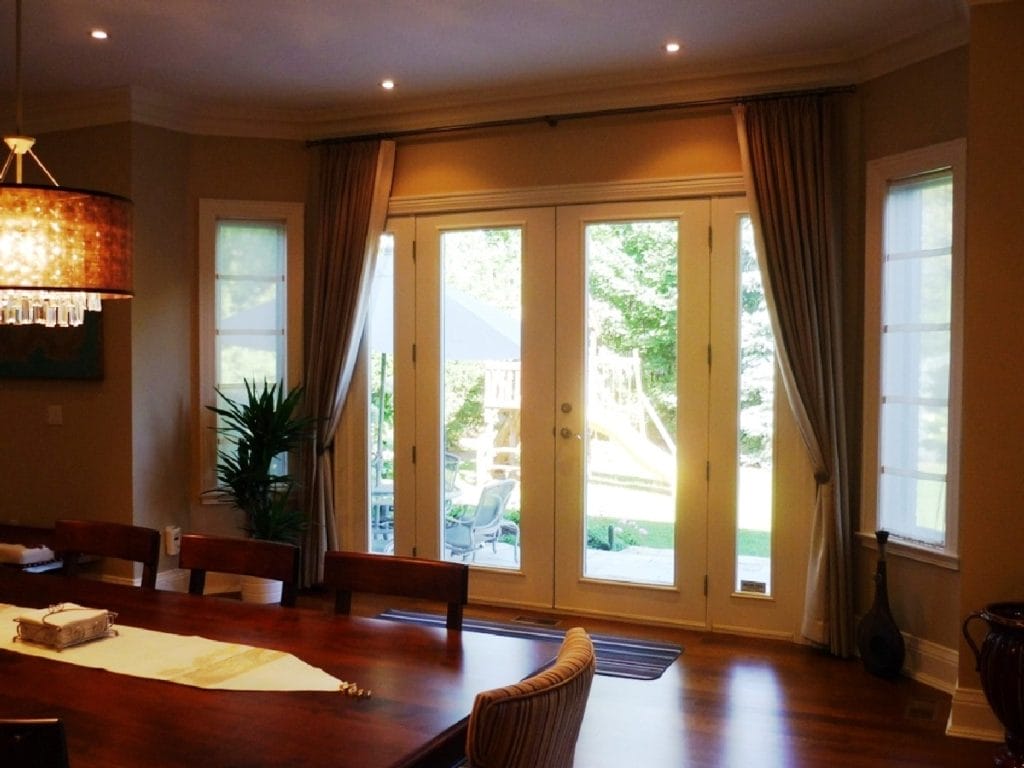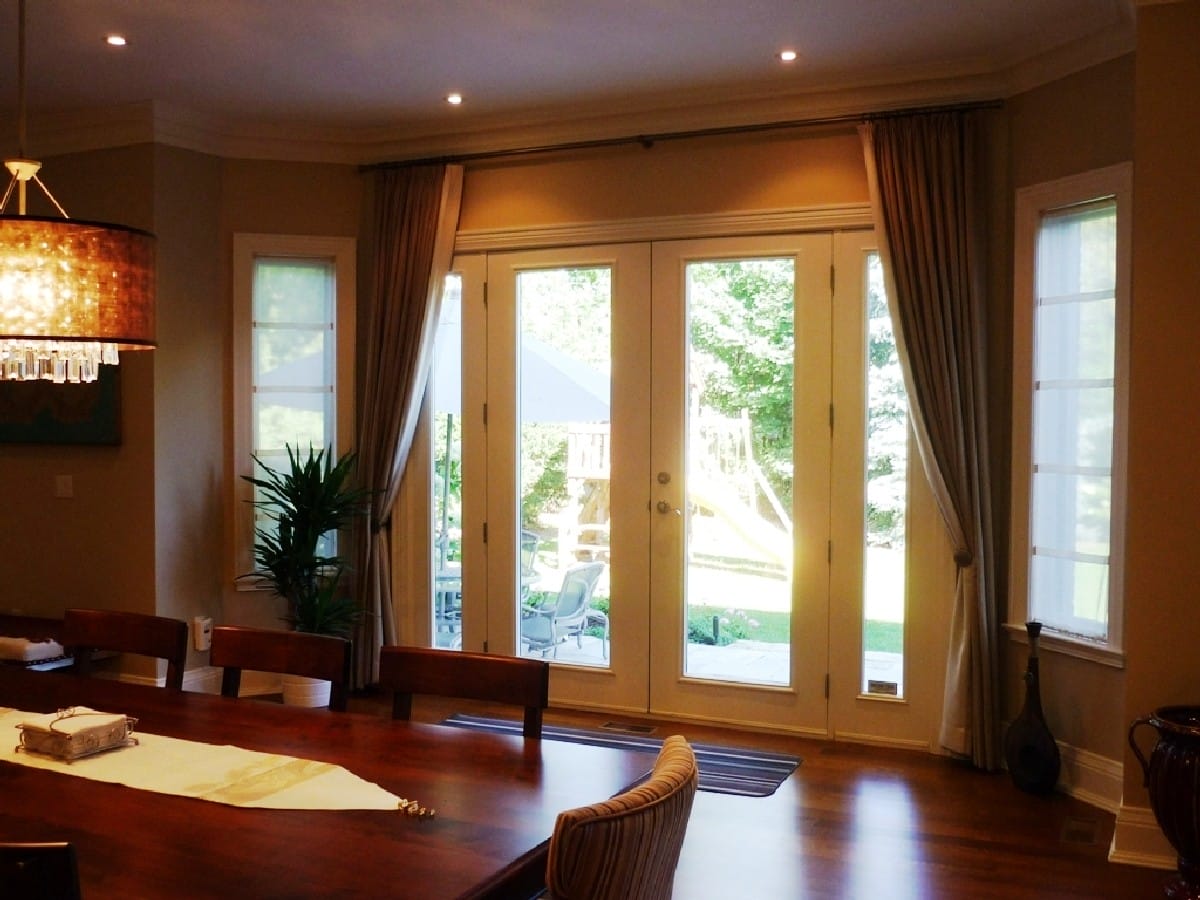 Your drapery serves an array of purposes: from covering the windows for privacy, to helping you retain heat during the winter, to shielding you and your loved ones from direct sunlight and finally by adding the finishing touch to your interior decor. Most of the functions on that list are colour-independent, meaning it doesn't much matter what colour your drapes are when it comes to retaining heat or providing privacy. It's the last item however where the colour you choose for your custom drapes really comes into play. Make a poor colour choice for your drapes and your entire decor will be knocked off balance. Make the right choice and it will all come together like tumblers in a door lock. Let's look at the right way to determine what colour your new custom drapery should be.
Winnowing Down Your Choices for Custom Drapery
Custom drapes provide far more colour choices than Roman shades, remote control blinds or other types of window treatment. As such the process of determining the right colour for your new custom drapes will require you to proceed methodically through the major considerations in play, which is what we'll do here. Note that this list assumes you have an established decor in place in your Toronto home or that you are building from scratch or remodelling and have already determined the colour of other elements in the room such as the walls and furniture etc.
The Roman Shade Re-imagined by Sarit Arnesty 
Different Styles Call for Different Colours 
If it's a classic look that you're after with your decor you're going to want to lean toward neutrals for your drapery colour. If, however, you're in pursuit of a trendier look and feel chances are you're going to want to explore more high key colours that are bright and bold yet sophisticated. With a classic look you may want to use a valance to introduce tones that act as a colour bridge between the drapes and the wall colour.
Complementary Colours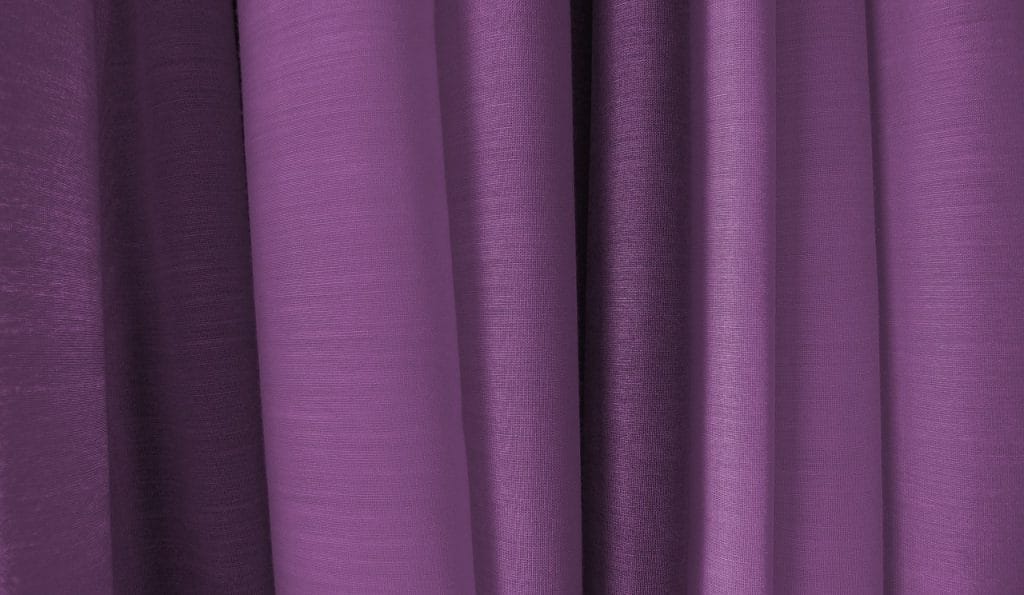 Complementary colours are traditionally considered to be those that sit opposite each other on the colour wheel: red and green, yellow and purple, blue and orange. One colour of each pair is a primary colour (red, yellow or blue) and one is a complementary, or secondary, colour (green, purple or orange) achieved by mixing 2 primaries. Complementary colours can be found in artwork, graphic design, clothing and interior design throughout the world although many designers work with the more muted tertiary colours that result from mixing a primary and a secondary colour. Colour "value" is another important consideration and indicates how far a particular colour is shifted toward either the white or black ends of the spectrum. When it comes to your drapery creating complementary pairings with other colours in the decor can be an easy and effective way to tie the entire room together in a harmonious fashion. Also note that you'll sometimes hear complementary colours referred to as contrasting colours.
Contact Sarit Arnesty @ 647-898-4073 for any question
Accent Colour
Accent colour is not the same as complementary colour (an accent can be a complementary colour if you choose but most of the time it's not). An accent colour is typically a colour that is prevalent in some other part of the decor that you decide to use for your drapery colour. Like the complementary colour the role of the accent colour is to tie things together in a visually subtle yet harmonious way. When choosing this route for your custom drapery it's advisable to pull the accent colour from a permanent feature of the room like the walls or furniture rather than from something that may change later like a throw rug or decorative pillows.
Neutral Colours 
As we said earlier neutral colours are commonly associated with a "classic" decor but that's not the only way they can be effectively used. Any room that has strong colours on the walls can have those strong colours effectively muted by the introduction of neutral coloured drapery. Neutrals can be a solid tone throughout the drapes or printed fabrics that showcase a range of neutral tones. To tie your neutral custom drapes into the wall colour more effectively hem them with the wall colour or introduce the wall colour into the leading edge of each side.
Monochromatic 
If your decor calls for large areas of solid colour you can buttress the effect by selecting drapes from the same family of colours as your walls. This is where colour "value" would come in as you choose various shades of a specific colour to create visual interest and move the eye. There are immense decorative possibilities available using the monochromatic approach with many of them being quite timeless and relaxing.
Be Aware of Patterns in the Decor 
If the room where your new custom window coverings are being installed has some bold patterns in the wallpaper or upholstery or carpeting you won't (in most cases anyway) want to add fuel to the visual fire by introducing even more patterns into the drapery. In such cases you'll want to choose drapes that are not necessarily monochromatic, but relatively simple in their patterning and restrained in their colouring. It may be tempting to continue a pattern you're fond of in the drapery but it would wind up being no more appealing than a clothing outfit composed entirely of plaids.
 Ultimate Guide to Window Coverings
Focal Points 
The focal point is a mainstay of interior design because, among other things, it helps buttress the strong points of the room while redirecting attention away from any weaknesses. In some instances a particular window may provide the primary focal point in the room. If that is the case you'll want to choose colours for the drapery that work not only with the colours inside the room but what you see outside as well. Otherwise your custom drapes could wind up neutralizing an otherwise well-constructed focal point.
A Few Words About Rods and Tiebacks
Choosing the right drapery colours for a particular room is a process that goes beyond just the colour of the fabrics involved and extends to the components of the window treatments that deal with functionality, i.e. the rods and tiebacks. Many styles of drapery will essentially consume the rods when the drapes are closed (and if there is a valance in play that 'consumption' will be permanent) while grommet-top drapery will leave it largely exposed. Both the rods (if exposed at any point) and the tiebacks need to work harmoniously with the overall colour scheme of the room. Choosing a complementary colour for these window treatment components is a popular way to go. Either that or introducing a tertiary colour derived from other colours in the room.
The Effect of Your Drape Colours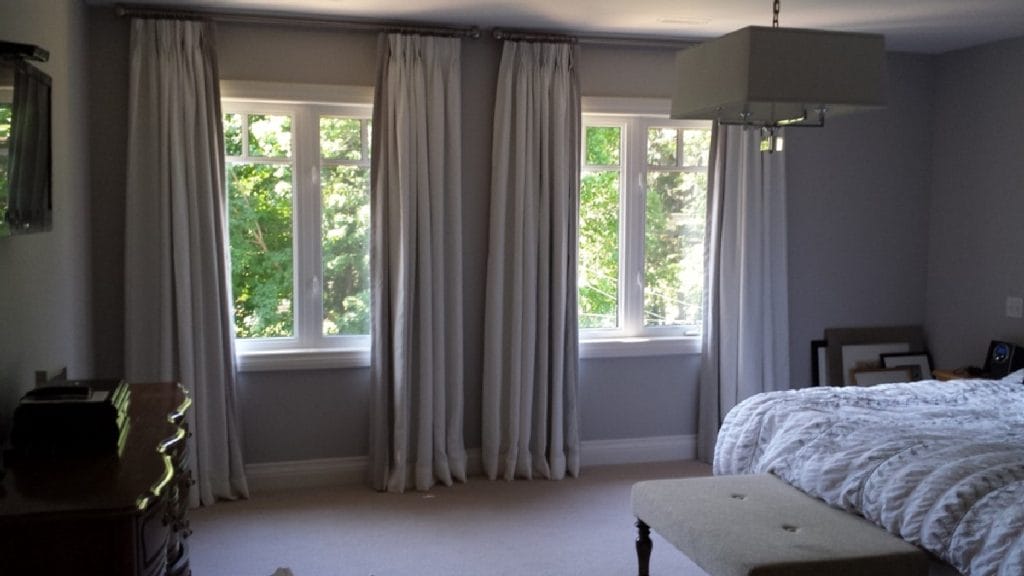 While we are assuming for the purposes of this guide that you've already made some major colour choices regarding the non-drapery elements of your decor it's never too late to learn a bit more about how colour can affect your experience of a space. So here are a few things to keep in mind about how different colours affect us.
Red – Red can be provocative but it can also be fun and, if the right value of red is chosen, it can imbue a space with a certain opulence. Red is confident and energetic as well and is also known to stimulate the appetite, which is why you'll sometimes find red drapery in a dining room.
Yellow – Yellow adds a sense of light and airiness to a space and also, when employed in its more muted forms, can aid in a sense of relaxation and hominess. You need to be careful with yellow however because it's also the colour that will create the highest degree of eye fatigue due to the fact that it reflects vast amounts of light.
Blue – Blue is a reassuring colour and one that encourages peace of mind and relaxation, which is one reason you'll often find blue in hospitals and clinics. Blue is essentially conservative in nature and not a colour that initiates aggressive feelings. The mind doesn't associate blue with eating either which is one reason blue is not commonly used in kitchens unless the homeowner is trying to lose weight.
Green – Green in all its attendant values is extremely versatile. It can produce a relaxing atmosphere just as easily as it can energize a space. One thing it never is however is confrontational which is why you'll see green used in almost every room in the house. It just naturally gets along with whatever you're trying to do decor-wise.
Orange – Orange is a colour that creates both enthusiasm and warmth, depending on the value employed. Because of its associations with fall orange is also perceived by the brain as indicating transition. Because of its incredible vibrance and energy you'll almost never find a decor constructed around orange. More typically it will be used as an accent colour.
Purple – Aristocratic, exotic, courageous, sensual. These are just some of the words used to describe purple. Purple is often used to give a space an upscale feel and when shifted toward its neutral state it can be a wonderfully versatile tone setter and/or bridge colour.
Keep these colour facts in mind when selecting your custom drapes and you'll wind up establishing exactly the type of mood you wish to set in a given room.
Contact us to make your home interior beautiful with custom drapes and blinds , check our Toronto homes projects
Common Mistakes People Make When Choosing Drape Colours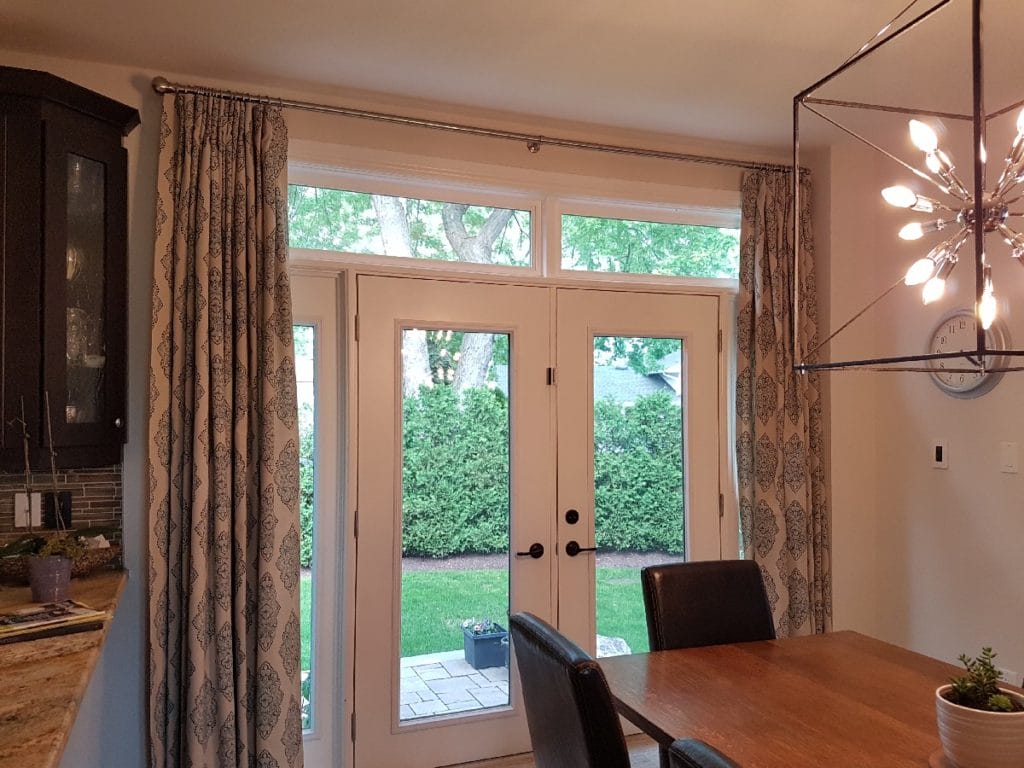 We've just covered the way different colours can in fact alter or otherwise control mood and drapes are subject to the same colour rules as everything else. Still, in order to get the colour of your draperies right you'll need to think like an artist or clothes designer. People in those professions understand that colours don't exist in a vacuum. They influence and are influenced by the colours around them. If you ignore this basic rule when it comes time to pick a colour for your drapes your result will be something less than satisfying. Here are some common colour mistakes people make with their drapes and how to avoid them.
#1: Picking the colour of the drapery first
This only applies to new homes or those undergoing renovation or remodelling, but regardless of the circumstances the result is always the same: if you pick the drapery colour first you're asking for problems down the line as you try to bring the room together aesthetically. A better way to approach things if you're starting from scratch is to consider the room in black and white while you make the initial decisions regarding the style and size of your furnishings, the layout, whether you want paint or wallpaper and the type of drapery you want to see. Then start filling in the colour blanks considering the room as a whole.
#2: Picking a colour that's too intense
You may be able to get away with an orange pillow or two or a yellow lamp but choosing a really intense colour for your drapes is asking for trouble. 20 square yards of orange or lemon yellow is a much different proposition than using a bit of those colours as an accent here or there. If you want to use energetic colours in your drapery you'll be much better served by using a more muted value, rather than reaching for the saturated colour.
#3: Losing sight of your goal
Colour has a way of leading us. We see that in how colours can affect our moods, energy levels and even our appetite. During the process of trying to find the right colour for their custom drapery some people will become so enamoured of a colour they stumble across that it derails their efforts and sends them off down an aesthetic detour. Before they know it they're gathering estimates to reupholster the furniture, talking to the guy at the paint store about complements for their new colouristic infatuation and completely losing sight of their original intention. Typically, changing horses in mid-stream like this doesn't lead anywhere good and in hindsight is seen for the waste of time and energy that it usually is.
Contact Sarit Arnesty Custom Drapery @ 647-898-4073
#4: Betting the farm on trends
There's nothing wrong with being in the loop as far as what's hot and what's not, but when people go all in on a colour trend one of two things happens: either they have to spend big next year to replace their drapes (and other furnishings) when the trend passes, or they wind up saddled with trendy colours that scream "Look at us! We're passé!" You might be able to make such a situation work if you're designing your interior to be ironic, but this is your home, not a platform for social commentary. Aspire to timelessness and you can't lose.
#5: Throwing in the towel
The process of determining exactly which colour would be best for your custom window coverings can be frustrating and confusing. We understand that better than most. But just because you've encounter a few setbacks or can't seem to decide on one of several colours that might work doesn't mean it's time to throw in the towel and start measuring your windows for Roman shades or remote control blinds. As lovely as those things are there was a reason you wanted custom drapery and don't lose sight of it. If you need a bit of help getting over the decision hump give us a call. It's what we do.
The Bottom Line
Selecting the right colour(s) for your custom drapery is not as easy as closing your eyes and pointing at a random spot on the colour wheel. It requires a patient, careful consideration of all the aesthetic facts as they relate to the room in question and you will probably wind up changing your mind several times along the way. But that's okay. It's part of the process. Have fun with it, keep the above tips, hints and truths in mind and give Sarit Arnesty a call if you have any questions or would just like to work with one of the Toronto area's most acclaimed interior design experts.