When it comes to decorating the office or the retail outlet you'll get a lot of differing opinions about what works, what's necessary and even what's financially responsible. That's especially true when it comes to drapery. There are those who feel drapes add a touch of class, those that feel custom drapes have no place in a commercial environment and those who may want to install drapes in their office or store but have heard some of the myths floating around about drapery and are reluctant to take the leap. Below we're going to take a quick look at some of those myths and try to set things right.
Busting Some Common Myths About Commercial Drapery
Drapery myths aren't quite on par with the Bermuda Triangle but they have nonetheless prevented some business owners from taking advantage of the many aesthetic and practical benefits drapery has to offer. So below we're going to address 5 drapery myths in the hope that busting them will free you to make the most of this type of commercial window dressing.
Myth 1: Drapes are a fire hazard
Perhaps in your grandparents' day this was the case but today commercial drapery is either made of flame retardant fabric or treated with a flame retardant that removes the risk of fire. In fact the drapery you hang in your office today is likely one of the least flammable items in your office or store with paper, wooden furniture, cardboard boxes and other materials representing a much more significant fire risk.
Myth 2: Commercial drapes are too expensive
Nonsense. This myth seems to derive from the fact that drapes have a naturally refined air about them and when people think 'refined' they tend to also think 'expensive'. In fact commercial drapes are among the least expensive types of window treatments there are when it comes to installation costs. And that makes a lot of sense if you think about it since, in most cases, once the drapes are ready it's a simple matter of installing the rod and hanging them. One more thing to consider when it comes to drapes and cost: drapery is a great way to keep all that heat you pay so dearly for from escaping through your windows, which can lead to noticeable reductions in your energy bills.
Myth 3: Office drapery has to be white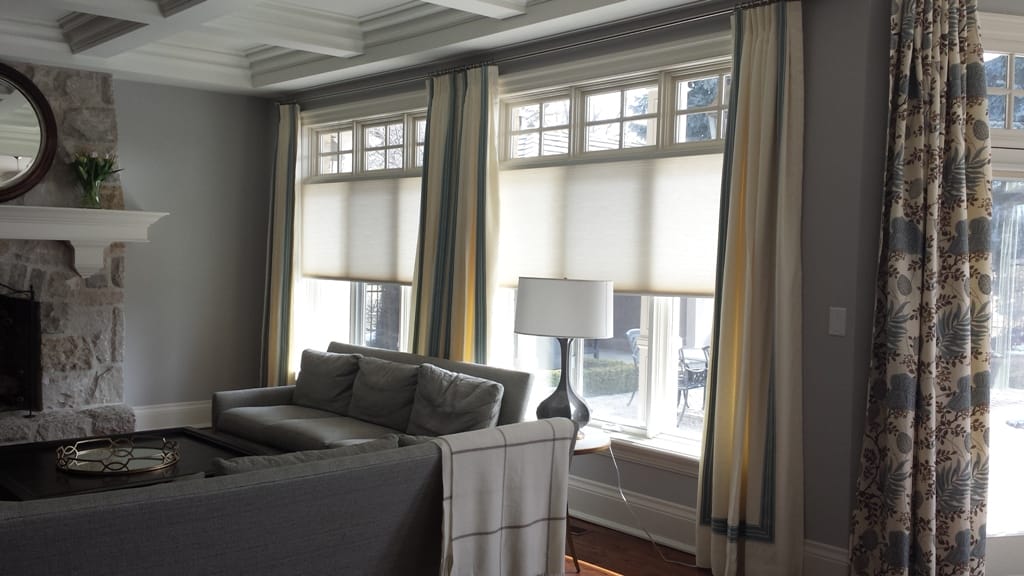 This is one of our favourites because it's a simple matter of taste that has somehow, through the miracle of repetition, actually gained some degree of currency with business owners and office managers. The fact is your office drapes can be whatever colour you feel is appropriate to the setting. Where you may want to draw the line is with certain prints or patterns that could be potentially distracting or interpreted as inappropriate. But colour? That's up to you. Also, if you're worried about a colour fading in the sunlight linings do a great job of keeping the sun at bay and protecting your drapery.
Myth 4: Motorized drapes and blinds are a waste of money
We've heard this one more than a few times and still can't figure out how it got started. But the truth is motorized blinds are often a wise choice from both a practical and functional perspective. The fact is motorized curtains and blinds often last longer than those that are opened and closed by hand because the movement is nice and smooth every time, resulting in less wear and tear. In addition the process can be automated so that the drapes or blinds open and close at specific times in order to better control heat levels in the office and reduce your HVAC expenses. Automated, motorized drapery also adds a sophisticated, professional air that will make a lasting impression on visitors to the office or customers to your boutique.
Myth 5: Commercial drapery is high maintenance
Installing drapery in the office or boutique is different than installing it in the home. At home you have all kinds of environmental pollutants at work that aren't present in the office including smoke and grease emanating from the kitchen, smoke from the fireplace, outdoor pollutants that come in through open windows and doors, cigarette, cigar or pipe smoke and more. As such you won't need to have your office drapes cleaned nearly as often as you would the drapes in your home.
Commercial drapes can activate the atmosphere of an office or boutique in a way standard Venetian blinds can't. They add personality, class and visual interest and at the same time can help you reduce your energy consumption and save you money over what it costs to install other types of window dressing. Don't believe the myths.
Call Sarit Arnesty Custom Drapery today on 647-898-4073 and learn more about the many benefits of commercial drapes.