For interior designers drapes are a bit of an ace in the hole. They're the kind of design element that can be used to make up for shortcomings in other areas or they can be used to put the finishing touch on a spectacularly successful decor. Drapes are grown up window coverings that endow your living area with a level of formality and sophistication it just would not have without them. But designing custom drapes to activate a room is not as simple as shopping from an online catalogue. There's a lot to consider. And we'll get into those things below.
Factors that go Into Designing Custom Drapes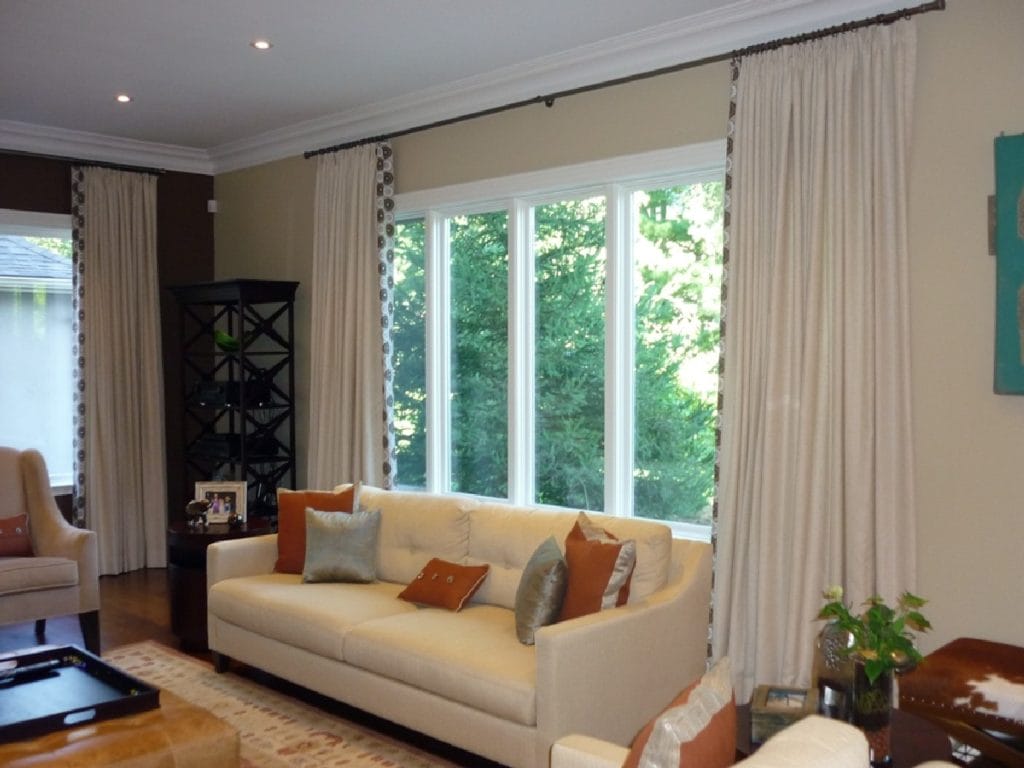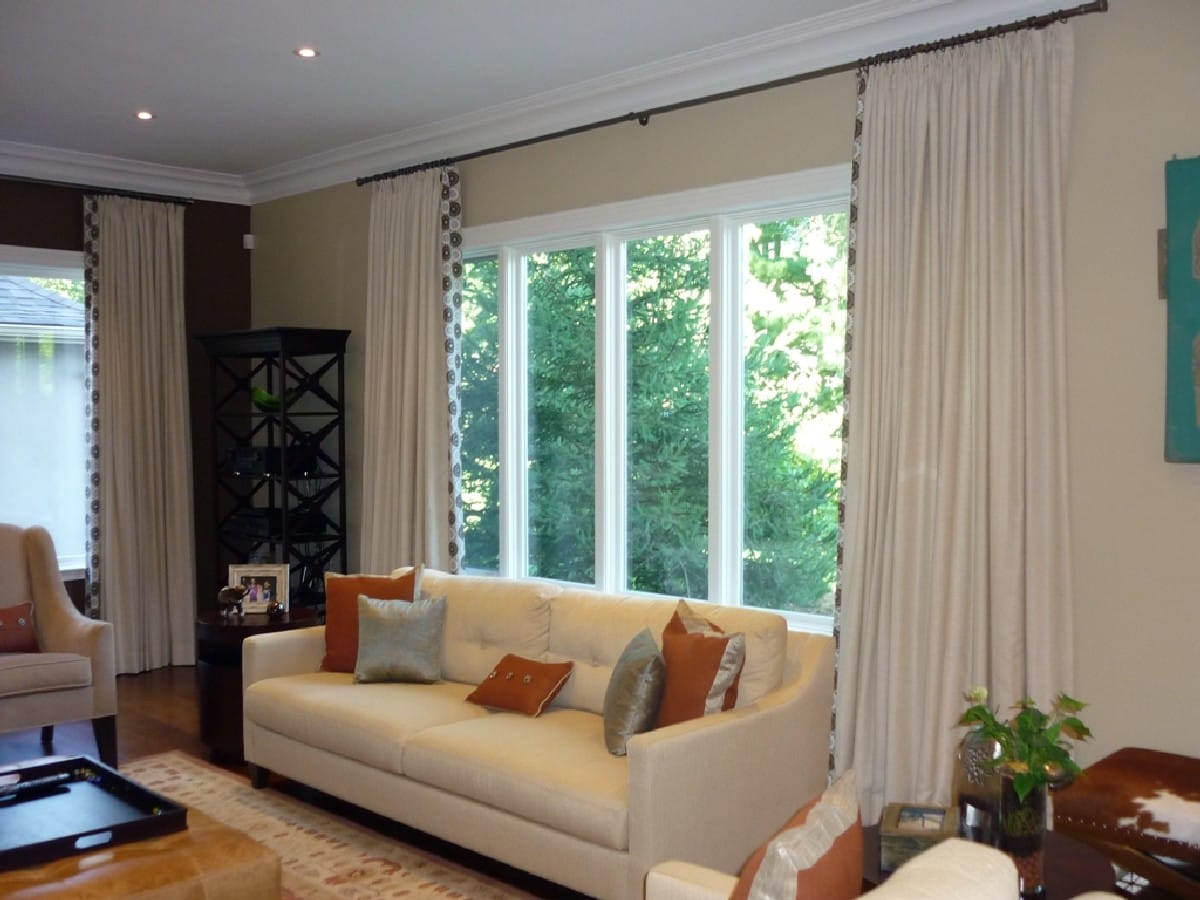 First off let's be clear that drapes and curtains are not the same thing. Although many folks use the terms interchangeably they actually describe different types of window treatments.
Curtains are by nature light and airy, often sheer or nearly sheer, are almost never lined and allow sunlight to filter through into the room.
Drapes on the other hand are heavy, formal affairs that often collect on the floor under the window, block most or all of the light from a window (when closed) and provide textures for other elements of the decor to play off of while ensuring privacy.
Ultimate Guide to Window Coverings
Now that we're clear on that let's look at the things you need to consider to make sure you get the right drapes for your room.
Purpose – Why are you hanging custom drapes in this room instead of Roman Shades or blinds? What do you hope to accomplish with the drapery? Are you trying to imbue the room with a formal air? If so does the furniture back that up? Are you using the drapes primarily to provide privacy and to prevent heat escaping during the winter? Before you can determine what type of drapes you need you have to determine what you hope to gain from them.
Colour – Drapes are such an important aspect of the decor it's not possible to get away with a questionable colour choice. Your new drapes are going to influence everything else in the room for better or worse so it pays to make sure it's for the better. You can use your drapes as a unifying force by pulling in colours from the upholstery or rugs. Or you can use your drapes to bring balance and colour harmony to the room by selecting a hue that is the complement of, say, the upholstery colour. This is a particularly effective way to go if the upholstery is fairly monotone.
Texture – If the rest of the room is swimming in lush textures and embroidery you don't want the drapes to have a slick, monochromatic character. Textures make a decor statement and should never be introduced haphazardly or without regard for their surroundings. That goes for the textures on your throw pillows and area rugs as much as it goes for the texture you choose for your drapery. Make sure your new drapes enhance the textural theme of the room as much as they provide colour harmony by choosing appropriate fabrics, patterns and finishes.
Design – The right drapes for a century-old Victorian are not going to be the right drapes for a custom designed minimalist masterpiece. Different architectural styles call for different decor elements to enhance and complement them. You can't ignore the design of the house when designing custom drapes. A talented decorator can find ways to carve something new out of an established architectural style but just ignoring the design of the house altogether is not going to work. In addition, different design considerations come into play in different rooms. In the living room you may want to exude a more formal vibe while in the dining room you may want to ease up a bit and go for something lighter.
Length – When it comes to drapes different lengths say different things.

 Hovering – Hovering above the ground provides a casual, practical air to a room. With just a finger width or two between the bottom of the drapes and the flooring the drapes won't gather excessive dust and the hem will remain nice and clean. Hovering drapes fit right in with a family room and other busy, high traffic areas of the house.
Brushing – Brushing the floor ever so slightly makes a more formal statement that works well in contemporary homes that want to introduce just a hint of tradition. It says you're sophisticated but not necessarily stuffy.
Breaking – When the bottom of the drapes breaks ever so slightly above the hem it's another step toward tradition. Drapes that "break" in such a way have a stylish air about them that rides a decorative line between eras and leaves plenty of room for the rest of the space to go either forward or backward in time.
Puddling – When you get to puddling (where the drapes gather in large folds on the floor) there's no longer any room for debate. You have decided to embrace opulence and dramatic excess and are all-in on tradition. If you're going to introduce puddling drapes the rest of your decor better be up to the task. Because if the drapes say opulent and the rest of the room doesn't agree you have a design crisis on your hands.

Coverage – Drapes are not just window coverings. They're part wall covering as well and are often hung from near the ceiling all the way to the floor where a foot or more of fabric may puddle. They also typically extend well beyond the width of the window frame as well. Don't be shy about using your drapes as an extension of the walls as much as a covering for the windows.
Fabric – Just as different lengths say different things so too do different fabrics. A dense fabric like velvet or damask will have a decidedly formal feel to it. By contrast, cotton will feel lighter and bring a more casual air to the room. When you line your drapes you also give them extra body and rigidity, which allows them to retain their shape and also makes them that much more effective at blocking light.
Styles – Drapes are available in a variety of styles to fit any decor. These different styles are most often expressed by the character of the fabric at the head of the drape. Gathers, tab tops, pinch pleats, swags and grommet tops are common drapery styles and each denotes a different way of treating the fabric at the top of the drape.
Focal points – Windows by their very nature draw the eye and create focal points. You can use drapery to make the most of these natural focal points by framing them in a way that works off of whatever is outside the window. Using dramatic colours and rich fabrics can ramp up the drama associated with a particular view. If, on the other hand, you wish to tone down the influence of the window or windows choose more muted fabrics and colours: ones that work with the internal colour scheme as it exists away from the windows.
Hardware – The final element you'll want to consider before you purchase custom drapes for your home is hardware. Your drapes won't be much without it and if you pick the wrong hardware they won't be much with it either. The hardware consists of curtain rods, brackets, finials, hanger and tiebacks and all of them must coexist peacefully with other elements of the decor, not just the drapes. If the finials for instance are from different design universe than other elements in room, such as the decorative moulding around the doorways, the effect will be jarring. Likewise, if you introduce brass hardware elements but there is no other decorative metal in the room it may look incongruous.
Reasons to Choose Custom Drapery from Sarit Arnesty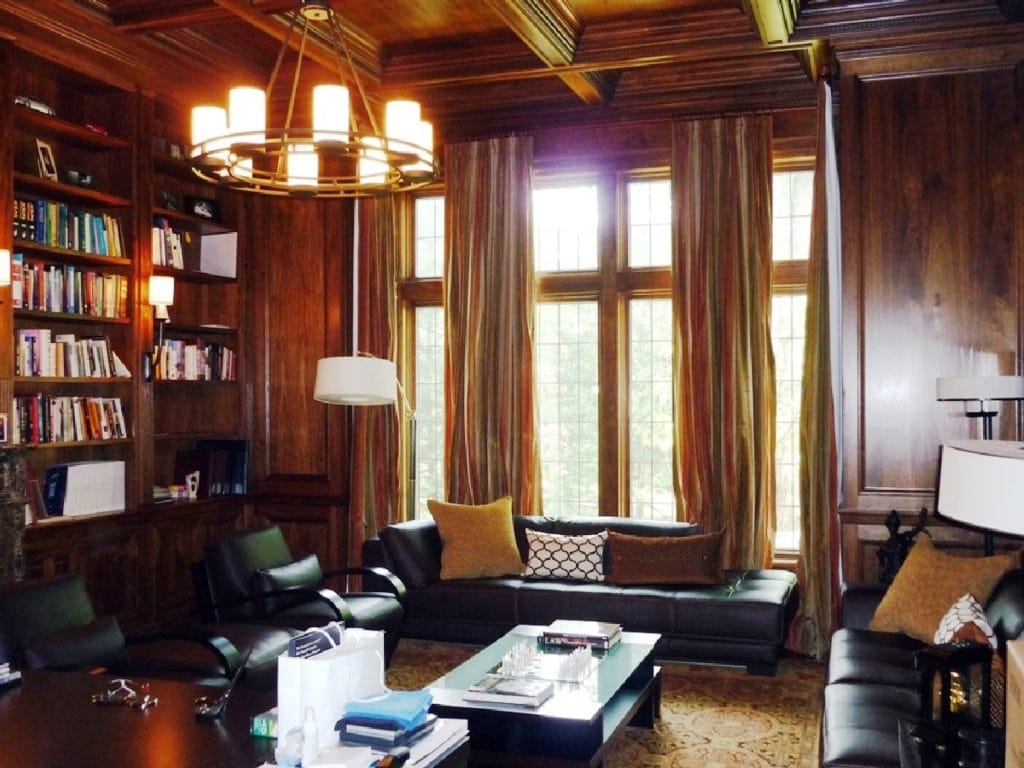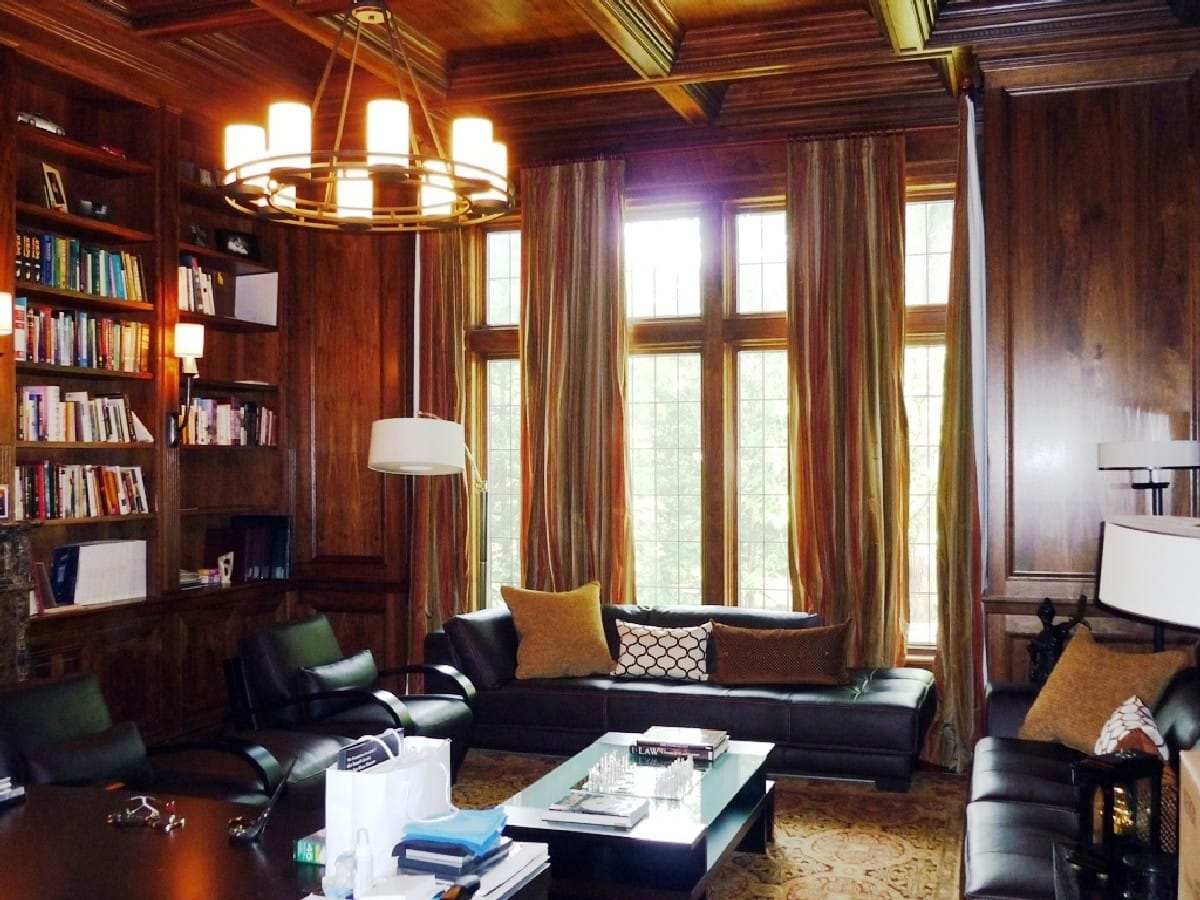 There are a number of good reasons to adorn your home with custom drapery from Sarit Arnesty.
Quality – While off the rack drapery often looks great in the store you'll typically discover when you get them home and take a good look at them that overall quality is low, with thin linings, poor stitching and little opportunity for customization. Custom drapes from Sarit Arnesty are made to stand up to the closest scrutiny and made to last.
Proper installation – When you enlist Sarit Arnesty to create your custom drapery you'll enjoy the benefits of our years of design experience and you'll also benefit from having your new drapes professionally hung and adjusted.
Custom fit – Custom drapery is the kind of decor element that is going to make or break a room. Expecting drapes made in a dingy shop in some far away land to somehow miraculously dovetail with your carefully considered decor is wishful thinking at its most extreme. The drapes we create for you will fit your space like a finely tailored suit.
Drapery is too important to be left to chance. Talk to the professionals at Sarit Arnesty about beautiful, practical and affordable custom drapes for your Toronto area home.
For more information about Custom Drapes Contact Sarit Arnesty Custom Drapery @ 647-898-4073